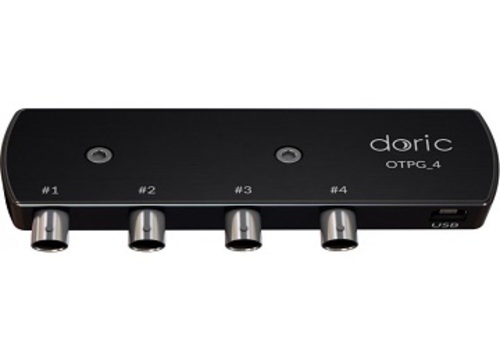 OTPG_4
OurOptogenetics TTL Pulse Generator allows you to generate up to 8 signals to master your experiments.
→ 상품 상세 정보 : Optogenetics TTL Pulse Generators
The optogenetics methods use light pulses to modulate the activity of genetically engineered light sensitive cells like neurons or others. Long gone are the days when a continuous streak of blue light, sent along an optical fiber to a mouse's brain to make it run, provokes worldwide scientific sensation. These days, even the simplest optogenetics experiments require programmable TTL Pulse Generators to modulate LED or Laser Diode Module Drivers and create a desired light pulse train. When a direct modulation of the light source is not possible, as in the case of some solid state lasers, continuous light beam is modulated using shutters.

Our miniaturized Optogenetics TTL Pulse Generators function with our other optogenetics products. The pulse train parameters and its triggering are controlled via Neuroscience Studio software. The generator connects to a computer with a USB cable and to a LED driver or a shutter with a BNC cable. Any channel of a TTL pulse generator can be assigned to a LED driver, a light shutter or it can be used as a trigger for other channels.

Example: Four channel pulse generator can control modulation of two LED modules with channels 1 and 2 while channels 3 and 4 are used as respective inputs for triggers.

Note: Pre-2017 OTPG4 devices are not compatible with Doric Neuroscience Studio Software and require the OTPG4 Controller